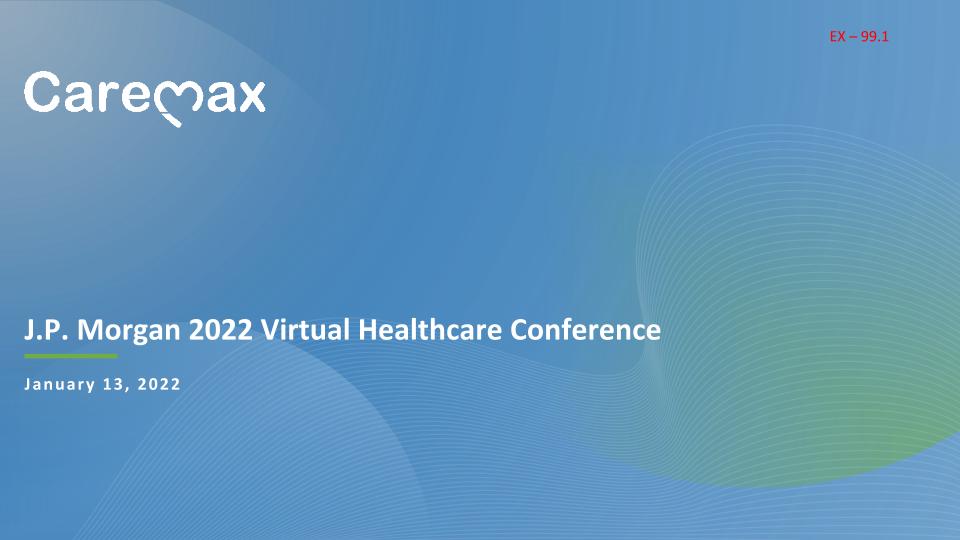 J.P. Morgan 2022 Virtual Healthcare Conference January 13, 2022 EX – 99.1
---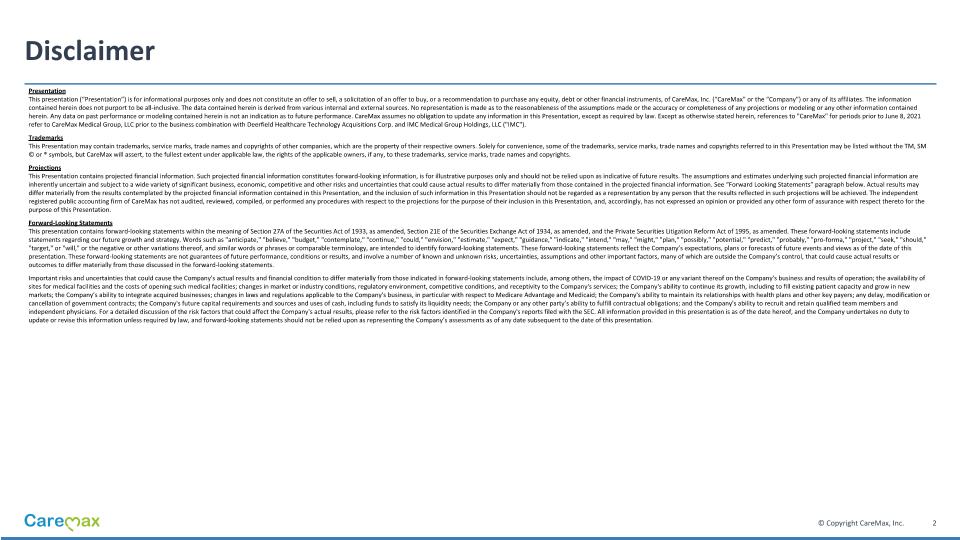 Disclaimer Presentation This presentation ("Presentation") is for informational purposes only and does not constitute an offer to sell, a solicitation of an offer to buy, or a recommendation to purchase any equity, debt or other financial instruments, of CareMax, Inc. ("CareMax" or the "Company") or any of its affiliates. The information contained herein does not purport to be all-inclusive. The data contained herein is derived from various internal and external sources. No representation is made as to the reasonableness of the assumptions made or the accuracy or completeness of any projections or modeling or any other information contained herein. Any data on past performance or modeling contained herein is not an indication as to future performance. CareMax assumes no obligation to update any information in this Presentation, except as required by law. Except as otherwise stated herein, references to "CareMax" for periods prior to June 8, 2021 refer to CareMax Medical Group, LLC prior to the business combination with Deerfield Healthcare Technology Acquisitions Corp. and IMC Medical Group Holdings, LLC ("IMC"). Trademarks This Presentation may contain trademarks, service marks, trade names and copyrights of other companies, which are the property of their respective owners. Solely for convenience, some of the trademarks, service marks, trade names and copyrights referred to in this Presentation may be listed without the TM, SM © or ® symbols, but CareMax will assert, to the fullest extent under applicable law, the rights of the applicable owners, if any, to these trademarks, service marks, trade names and copyrights. Projections This Presentation contains projected financial information. Such projected financial information constitutes forward-looking information, is for illustrative purposes only and should not be relied upon as indicative of future results. The assumptions and estimates underlying such projected financial information are inherently uncertain and subject to a wide variety of significant business, economic, competitive and other risks and uncertainties that could cause actual results to differ materially from those contained in the projected financial information. See "Forward Looking Statements" paragraph below. Actual results may differ materially from the results contemplated by the projected financial information contained in this Presentation, and the inclusion of such information in this Presentation should not be regarded as a representation by any person that the results reflected in such projections will be achieved. The independent registered public accounting firm of CareMax has not audited, reviewed, compiled, or performed any procedures with respect to the projections for the purpose of their inclusion in this Presentation, and, accordingly, has not expressed an opinion or provided any other form of assurance with respect thereto for the purpose of this Presentation. Forward-Looking Statements This presentation contains forward-looking statements within the meaning of Section 27A of the Securities Act of 1933, as amended, Section 21E of the Securities Exchange Act of 1934, as amended, and the Private Securities Litigation Reform Act of 1995, as amended. These forward-looking statements include statements regarding our future growth and strategy. Words such as "anticipate," "believe," "budget," "contemplate," "continue," "could," "envision," "estimate," "expect," "guidance," "indicate," "intend," "may," "might," "plan," "possibly," "potential," "predict," "probably," "pro-forma," "project," "seek," "should," "target," or "will," or the negative or other variations thereof, and similar words or phrases or comparable terminology, are intended to identify forward-looking statements. These forward-looking statements reflect the Company's expectations, plans or forecasts of future events and views as of the date of this presentation. These forward-looking statements are not guarantees of future performance, conditions or results, and involve a number of known and unknown risks, uncertainties, assumptions and other important factors, many of which are outside the Company's control, that could cause actual results or outcomes to differ materially from those discussed in the forward-looking statements. Important risks and uncertainties that could cause the Company's actual results and financial condition to differ materially from those indicated in forward-looking statements include, among others, the impact of COVID-19 or any variant thereof on the Company's business and results of operation; the availability of sites for medical facilities and the costs of opening such medical facilities; changes in market or industry conditions, regulatory environment, competitive conditions, and receptivity to the Company's services; the Company's ability to continue its growth, including to fill existing patient capacity and grow in new markets; the Company's ability to integrate acquired businesses; changes in laws and regulations applicable to the Company's business, in particular with respect to Medicare Advantage and Medicaid; the Company's ability to maintain its relationships with health plans and other key payers; any delay, modification or cancellation of government contracts; the Company's future capital requirements and sources and uses of cash, including funds to satisfy its liquidity needs; the Company or any other party's ability to fulfill contractual obligations; and the Company's ability to recruit and retain qualified team members and independent physicians. For a detailed discussion of the risk factors that could affect the Company's actual results, please refer to the risk factors identified in the Company's reports filed with the SEC. All information provided in this presentation is as of the date hereof, and the Company undertakes no duty to update or revise this information unless required by law, and forward-looking statements should not be relied upon as representing the Company's assessments as of any date subsequent to the date of this presentation.
---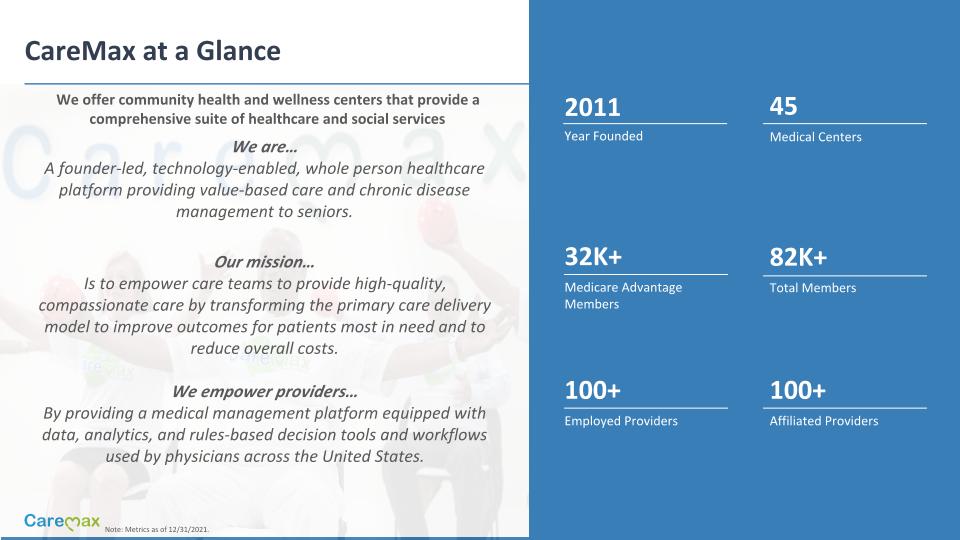 CareMax at a Glance 32K+ Medicare Advantage Members 2011 Year Founded 45 Medical Centers 100+ Employed Providers 82K+ Total Members We are… A founder-led, technology-enabled, whole person healthcare platform providing value-based care and chronic disease management to seniors. Our mission… Is to empower care teams to provide high-quality, compassionate care by transforming the primary care delivery model to improve outcomes for patients most in need and to reduce overall costs. We empower providers… By providing a medical management platform equipped with data, analytics, and rules-based decision tools and workflows used by physicians across the United States. 100+ Affiliated Providers We offer community health and wellness centers that provide a comprehensive suite of healthcare and social services Note: Metrics as of 12/31/2021.
---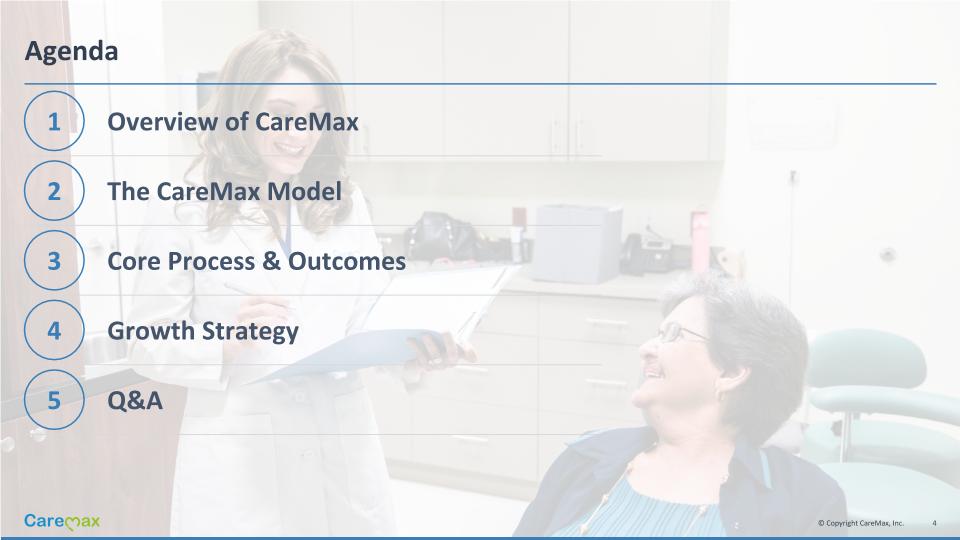 Agenda 1 2 3 4 5 Overview of CareMax The CareMax Model Core Process & Outcomes Growth Strategy Q&A
---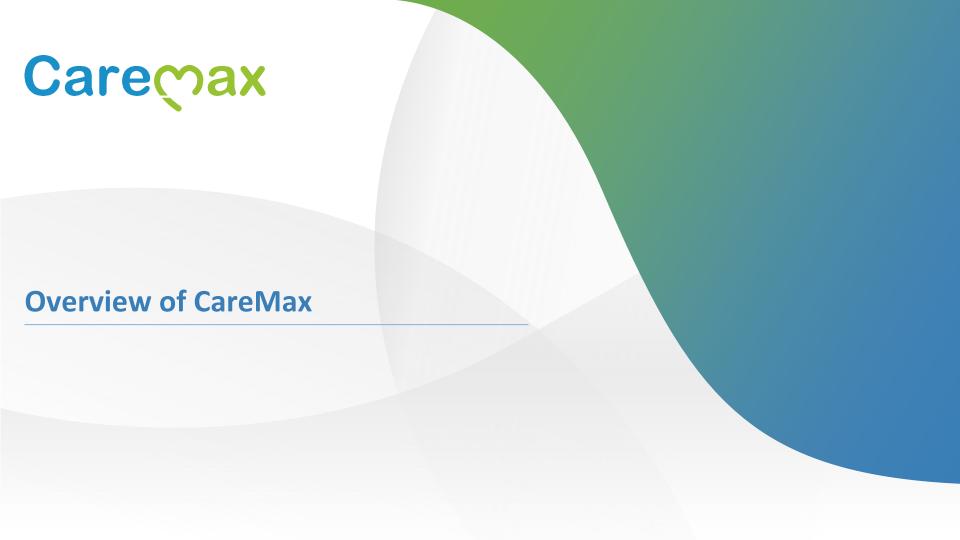 Overview of CareMax
---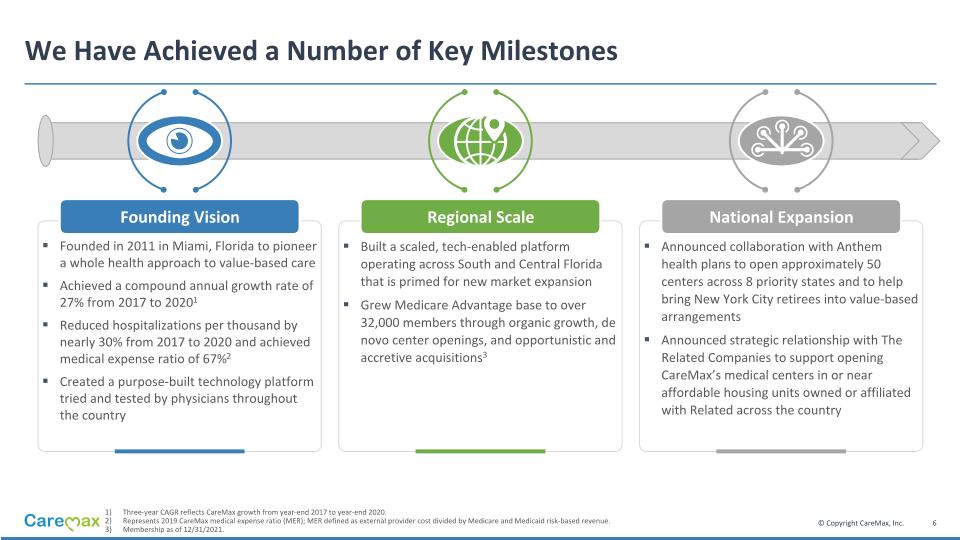 Three-year CAGR reflects CareMax growth from year-end 2017 to year-end 2020. Represents 2019 CareMax medical expense ratio (MER); MER defined as external provider cost divided by Medicare and Medicaid risk-based revenue. Membership as of 12/31/2021. We Have Achieved a Number of Key Milestones Founded in 2011 in Miami, Florida to pioneer a whole health approach to value-based care Achieved a compound annual growth rate of 27% from 2017 to 20201 Reduced hospitalizations per thousand by nearly 30% from 2017 to 2020 and achieved medical expense ratio of 67%2 Created a purpose-built technology platform tried and tested by physicians throughout the country Announced collaboration with Anthem health plans to open approximately 50 centers across 8 priority states and to help bring New York City retirees into value-based arrangements Announced strategic relationship with The Related Companies to support opening CareMax's medical centers in or near affordable housing units owned or affiliated with Related across the country Built a scaled, tech-enabled platform operating across South and Central Florida that is primed for new market expansion Grew Medicare Advantage base to over 32,000 members through organic growth, de novo center openings, and opportunistic and accretive acquisitions3 Founding Vision Regional Scale National Expansion
---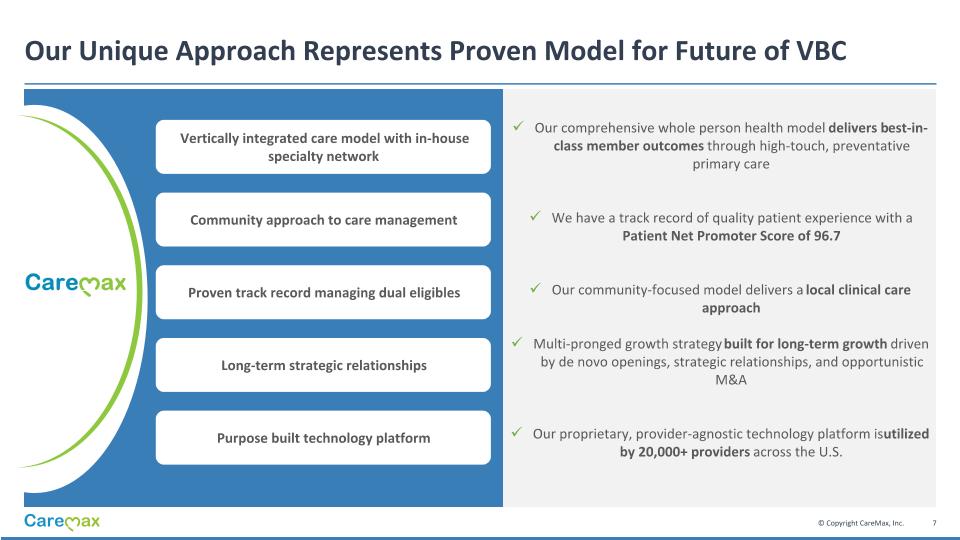 Vertically integrated care model with in-house specialty network Our Unique Approach Represents Proven Model for Future of VBC Proven track record managing dual eligibles Community approach to care management Long-term strategic relationships Purpose built technology platform Our comprehensive whole person health model delivers best-in-class member outcomes through high-touch, preventative primary care We have a track record of quality patient experience with a Patient Net Promoter Score of 96.7 Our community-focused model delivers a local clinical care approach Multi-pronged growth strategy built for long-term growth driven by de novo openings, strategic relationships, and opportunistic M&A Our proprietary, provider-agnostic technology platform is utilized by 20,000+ providers across the U.S.
---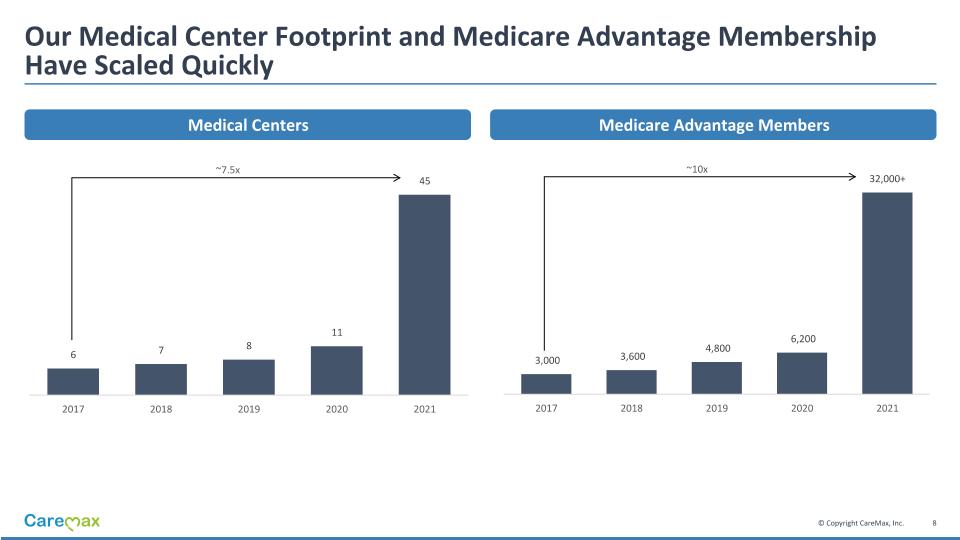 Our Medical Center Footprint and Medicare Advantage Membership Have Scaled Quickly Medical Centers Medicare Advantage Members ~7.5x ~10x
---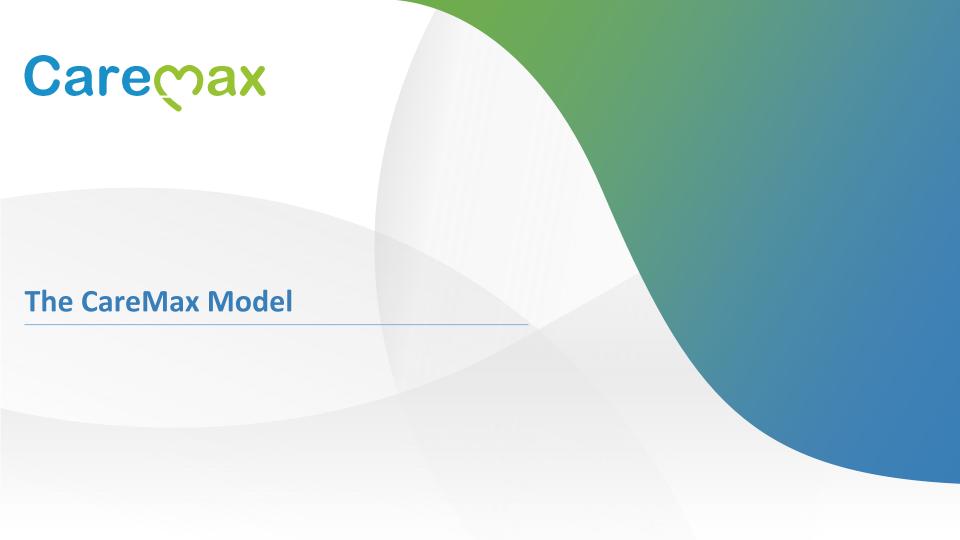 The CareMax Model
---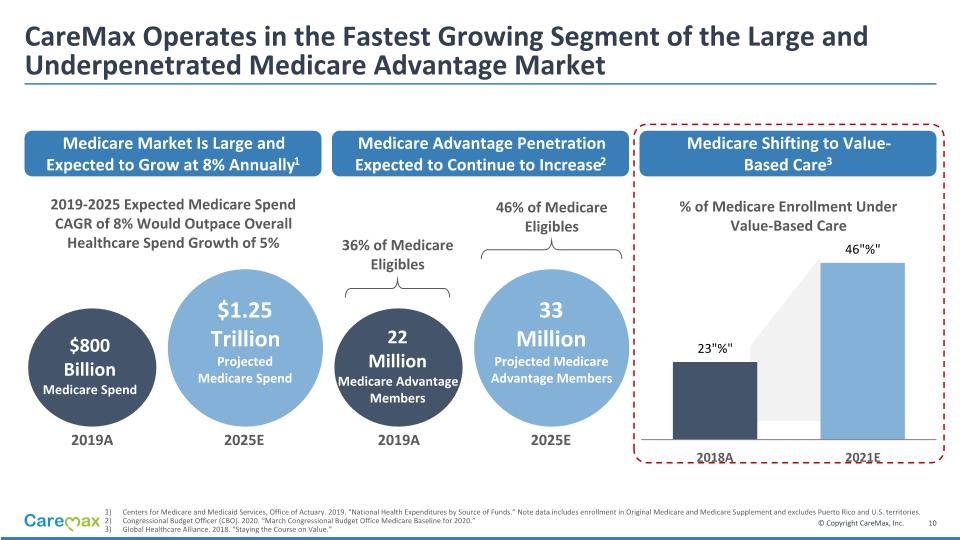 CareMax Operates in the Fastest Growing Segment of the Large and Underpenetrated Medicare Advantage Market Centers for Medicare and Medicaid Services, Office of Actuary. 2019. "National Health Expenditures by Source of Funds." Note data includes enrollment in Original Medicare and Medicare Supplement and excludes Puerto Rico and U.S. territories. Congressional Budget Officer (CBO). 2020. "March Congressional Budget Office Medicare Baseline for 2020." Global Healthcare Alliance. 2018. "Staying the Course on Value." % of Medicare Enrollment Under Value-Based Care Medicare Market Is Large and Expected to Grow at 8% Annually1 Medicare Advantage Penetration Expected to Continue to Increase2 Medicare Shifting to Value-Based Care3 $800 Billion Medicare Spend $1.25 Trillion Projected Medicare Spend 2019-2025 Expected Medicare Spend CAGR of 8% Would Outpace Overall Healthcare Spend Growth of 5% 2019A 2025E 22 Million Medicare Advantage Members 33 Million Projected Medicare Advantage Members 2019A 2025E 36% of Medicare Eligibles 46% of Medicare Eligibles
---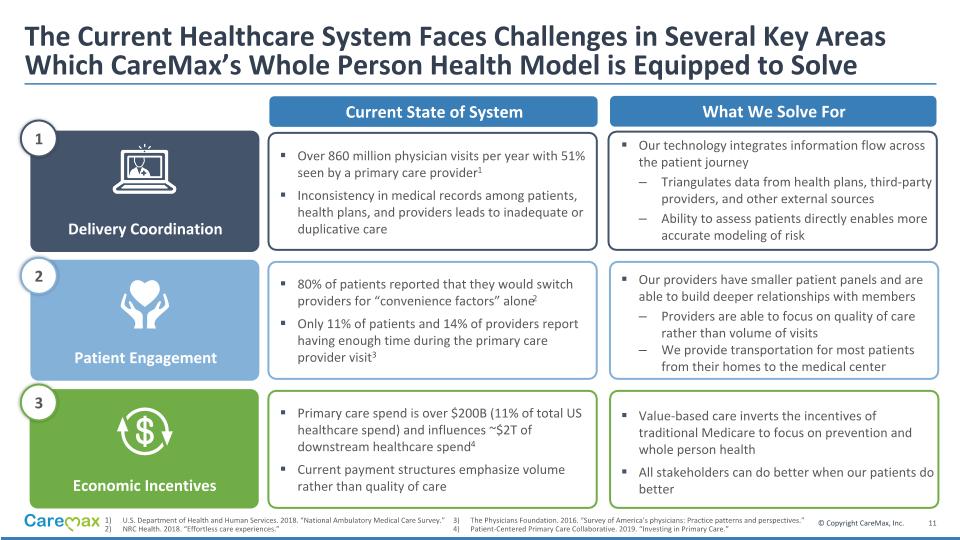 The Current Healthcare System Faces Challenges in Several Key Areas Which CareMax's Whole Person Health Model is Equipped to Solve Patient Engagement Delivery Coordination 2 Economic Incentives 3 80% of patients reported that they would switch providers for "convenience factors" alone2 Only 11% of patients and 14% of providers report having enough time during the primary care provider visit3 Over 860 million physician visits per year with 51% seen by a primary care provider1 Inconsistency in medical records among patients, health plans, and providers leads to inadequate or duplicative care Primary care spend is over $200B (11% of total US healthcare spend) and influences ~$2T of downstream healthcare spend4 Current payment structures emphasize volume rather than quality of care 1 Our technology integrates information flow across the patient journey Triangulates data from health plans, third-party providers, and other external sources Ability to assess patients directly enables more accurate modeling of risk Our providers have smaller patient panels and are able to build deeper relationships with members Providers are able to focus on quality of care rather than volume of visits We provide transportation for most patients from their homes to the medical center Value-based care inverts the incentives of traditional Medicare to focus on prevention and whole person health All stakeholders can do better when our patients do better Current State of System What We Solve For U.S. Department of Health and Human Services. 2018. "National Ambulatory Medical Care Survey." NRC Health. 2018. "Effortless care experiences." 3) The Physicians Foundation. 2016. "Survey of America's physicians: Practice patterns and perspectives." 4) Patient-Centered Primary Care Collaborative. 2019. "Investing in Primary Care."
---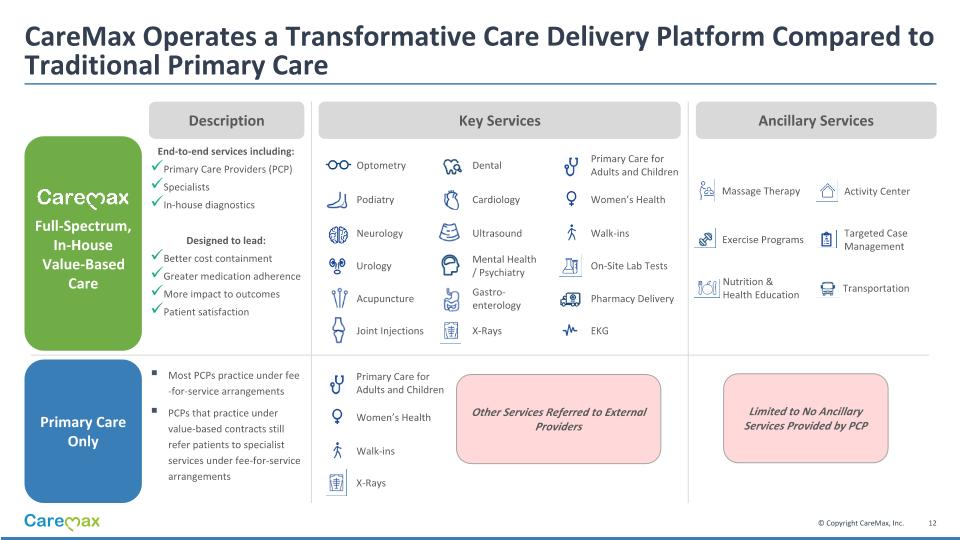 Gastro-enterology CareMax Operates a Transformative Care Delivery Platform Compared to Traditional Primary Care Dental Cardiology Ultrasound Ancillary Services End-to-end services including: Primary Care Providers (PCP) Specialists In-house diagnostics Designed to lead: Better cost containment Greater medication adherence More impact to outcomes Patient satisfaction Most PCPs practice under fee-for-service arrangements PCPs that practice under value-based contracts still refer patients to specialist services under fee-for-service arrangements Key Services Primary CareOnly Full-Spectrum,In-House Value-Based Care Pharmacy Delivery Primary Care for Adults and Children Women's Health Walk-ins On-Site Lab Tests Optometry Podiatry Neurology Urology Acupuncture Joint Injections Mental Health / Psychiatry EKG X-Rays Massage Therapy Exercise Programs Nutrition & Health Education Activity Center Targeted Case Management Transportation Description Primary Care for Adults and Children Women's Health Walk-ins X-Rays Other Services Referred to External Providers Limited to No Ancillary Services Provided by PCP
---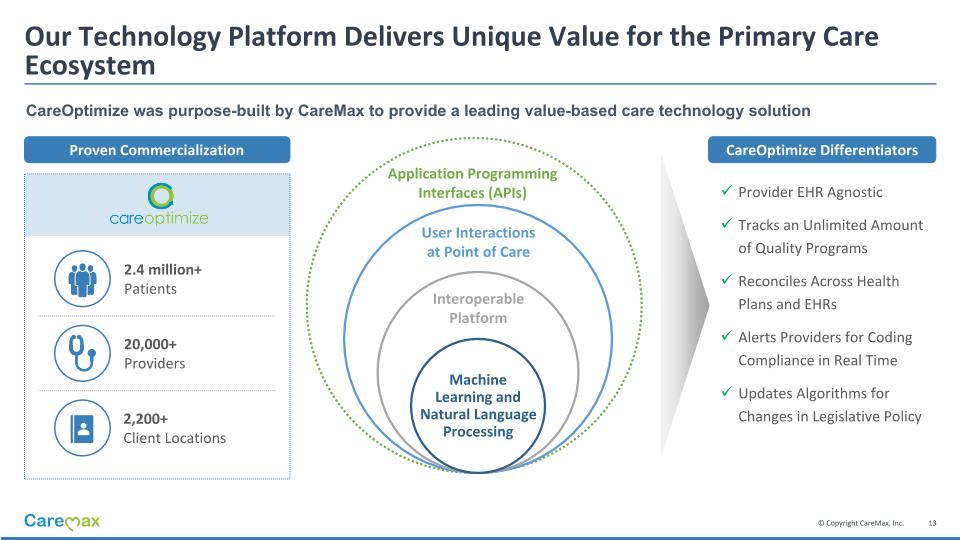 Our Technology Platform Delivers Unique Value for the Primary Care Ecosystem Provider EHR Agnostic Tracks an Unlimited Amount of Quality Programs Reconciles Across Health Plans and EHRs Alerts Providers for Coding Compliance in Real Time Updates Algorithms for Changes in Legislative Policy CareOptimize was purpose-built by CareMax to provide a leading value-based care technology solution Proven Commercialization 2.4 million+ Patients 20,000+ Providers 2,200+ Client Locations Machine Learning and Natural Language Processing Application ProgrammingInterfaces (APIs) User Interactions at Point of Care Interoperable Platform CareOptimize Differentiators
---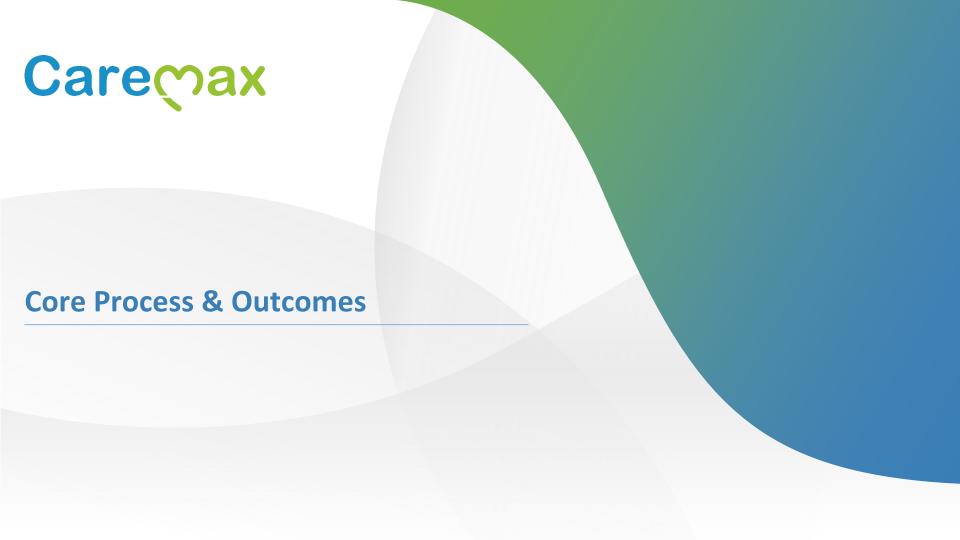 Core Process & Outcomes
---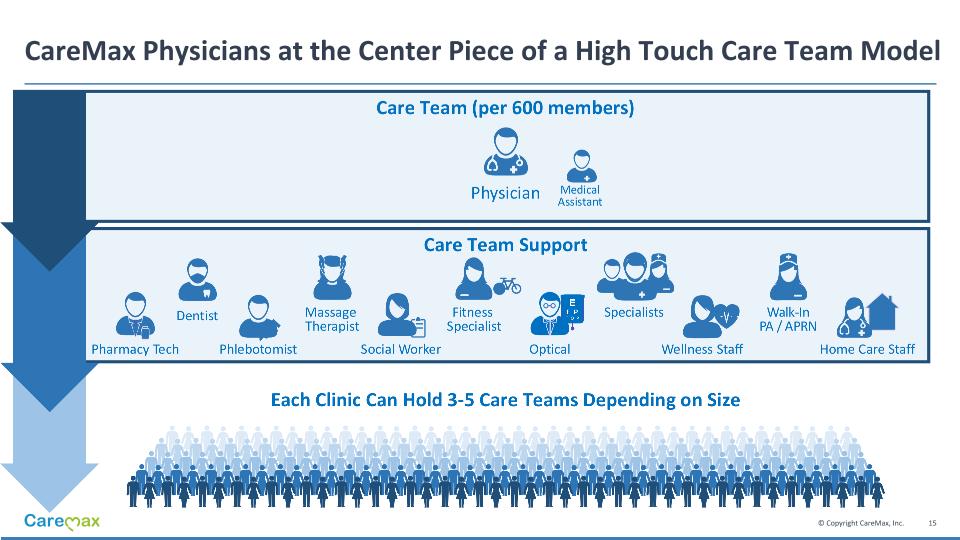 CareMax Physicians at the Center Piece of a High Touch Care Team Model
---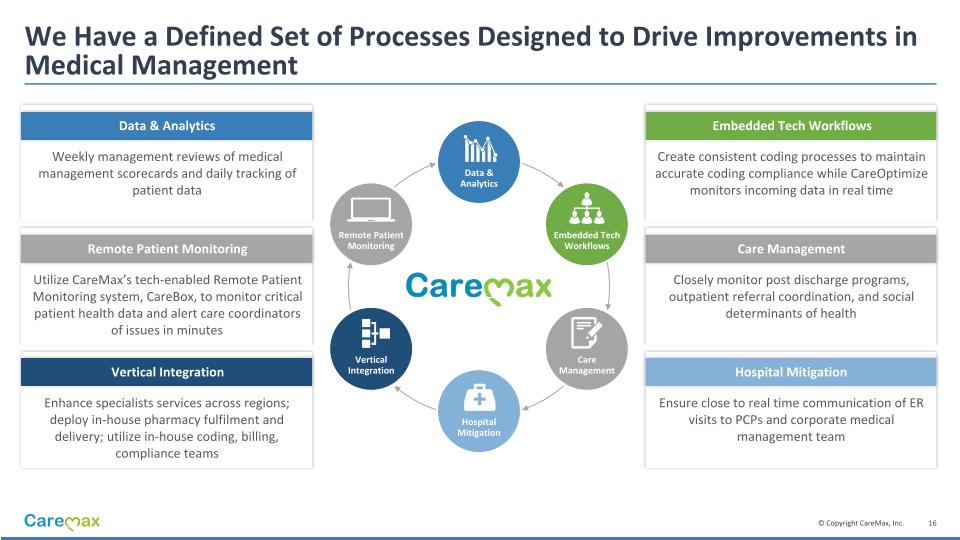 We Have a Defined Set of Processes Designed to Drive Improvements in Medical Management Data & Analytics Embedded Tech Workflows CareManagement Hospital Mitigation Vertical Integration Remote Patient Monitoring Weekly management reviews of medical management scorecards and daily tracking of patient data Utilize CareMax's tech-enabled Remote Patient Monitoring system, CareBox, to monitor critical patient health data and alert care coordinators of issues in minutes Enhance specialists services across regions; deploy in-house pharmacy fulfilment and delivery; utilize in-house coding, billing, compliance teams Create consistent coding processes to maintain accurate coding compliance while CareOptimize monitors incoming data in real time Closely monitor post discharge programs, outpatient referral coordination, and social determinants of health Ensure close to real time communication of ER visits to PCPs and corporate medical management team Data & Analytics Remote Patient Monitoring Vertical Integration Embedded Tech Workflows Care Management Hospital Mitigation
---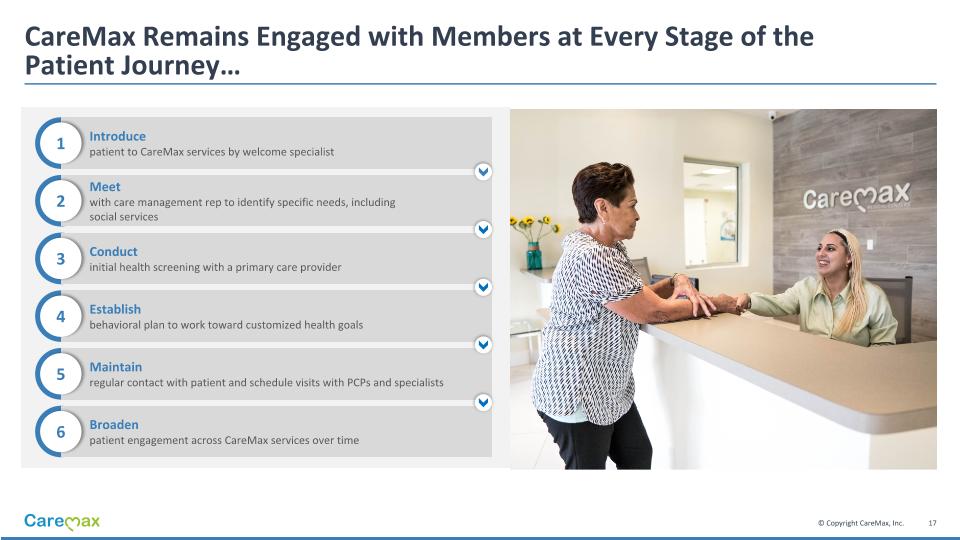 CareMax Remains Engaged with Members at Every Stage of the Patient Journey… Introduce patient to CareMax services by welcome specialist 1 Conduct initial health screening with a primary care provider 3 Establish behavioral plan to work toward customized health goals 4 Maintain regular contact with patient and schedule visits with PCPs and specialists 5 Broaden patient engagement across CareMax services over time 6 Meet with care management rep to identify specific needs, including social services 2
---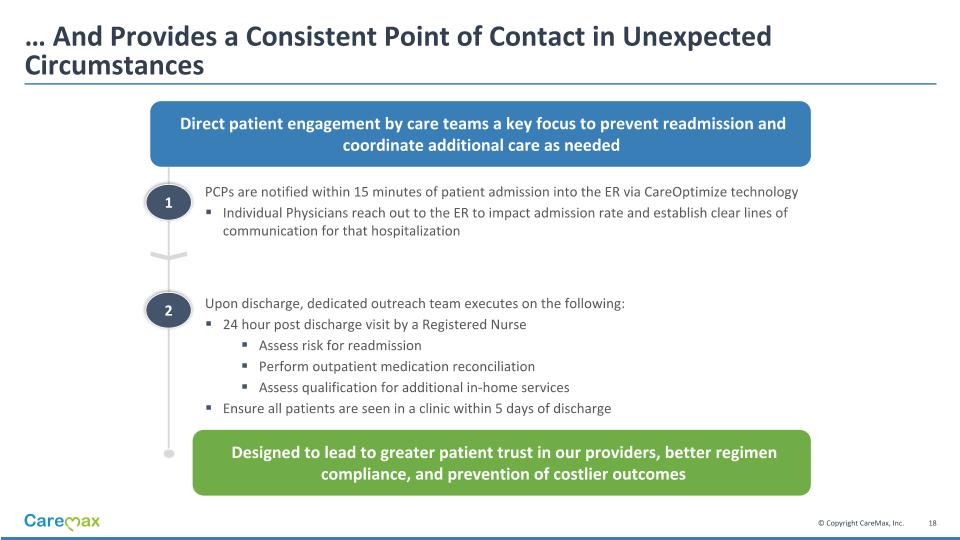 … And Provides a Consistent Point of Contact in Unexpected Circumstances 1 2 PCPs are notified within 15 minutes of patient admission into the ER via CareOptimize technology Individual Physicians reach out to the ER to impact admission rate and establish clear lines of communication for that hospitalization Upon discharge, dedicated outreach team executes on the following: 24 hour post discharge visit by a Registered Nurse Assess risk for readmission Perform outpatient medication reconciliation Assess qualification for additional in-home services Ensure all patients are seen in a clinic within 5 days of discharge Designed to lead to greater patient trust in our providers, better regimen compliance, and prevention of costlier outcomes Direct patient engagement by care teams a key focus to prevent readmission and coordinate additional care as needed
---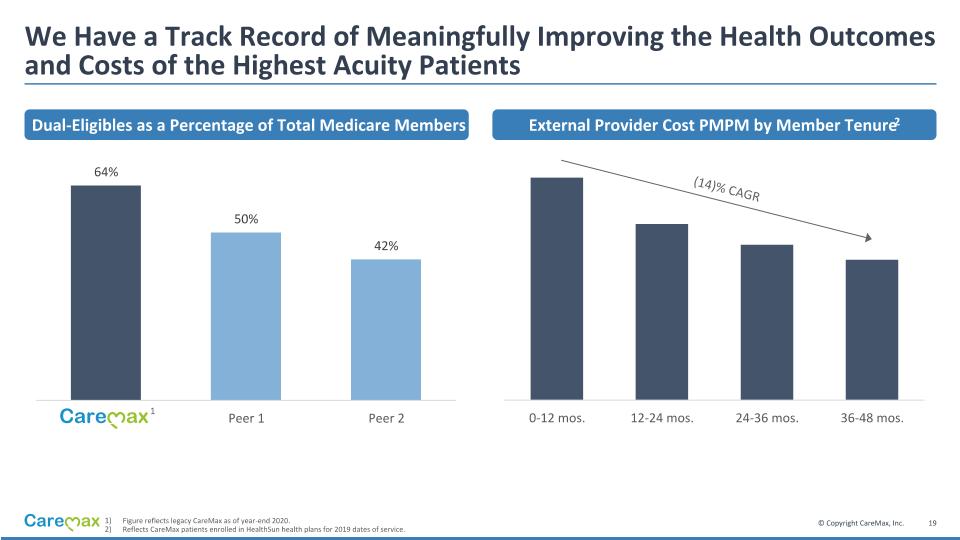 We Have a Track Record of Meaningfully Improving the Health Outcomes and Costs of the Highest Acuity Patients Figure reflects legacy CareMax as of year-end 2020. Reflects CareMax patients enrolled in HealthSun health plans for 2019 dates of service. External Provider Cost PMPM by Member Tenure2 (14)% CAGR Dual-Eligibles as a Percentage of Total Medicare Members 1
---
Our Clinical Model Has Resulted in Improving Health KPIs vs Traditional Medicare Figures reflect legacy CareMax for FY19. As compared to emergency department data per Avalere. Based on 2019 CMS FFS benchmark. As compared to readmission data from the Healthcare Cost and Utilization Project at the Agency for Healthcare Research and Quality. 2 3 Percentage Improvement vs Fee-for-Service Benchmarks1 4
---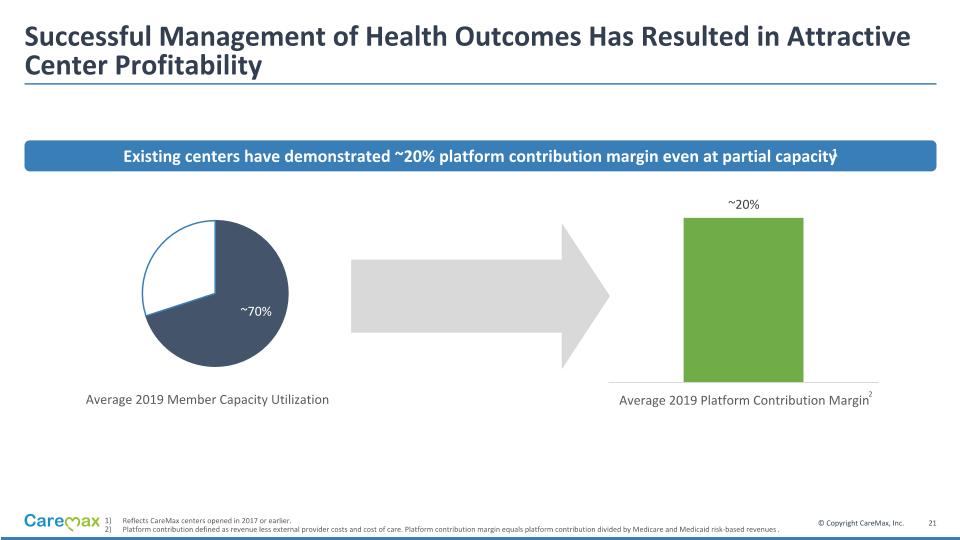 Successful Management of Health Outcomes Has Resulted in Attractive Center Profitability Reflects CareMax centers opened in 2017 or earlier. Platform contribution defined as revenue less external provider costs and cost of care. Platform contribution margin equals platform contribution divided by Medicare and Medicaid risk-based revenues. Existing centers have demonstrated ~20% platform contribution margin even at partial capacity1 2 Average 2019 Member Capacity Utilization
---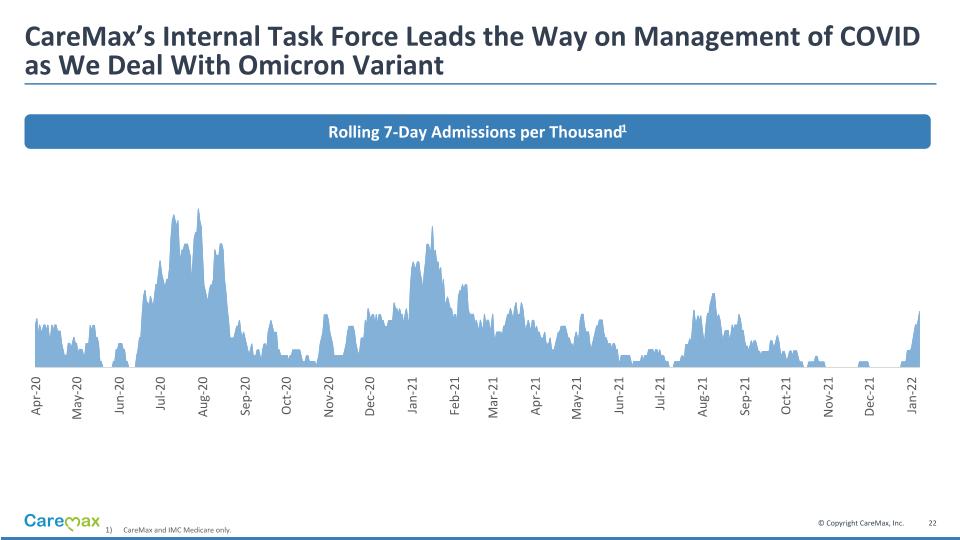 CareMax's Internal Task Force Leads the Way on Management of COVID as We Deal With Omicron Variant CareMax and IMC Medicare only. Rolling 7-Day Admissions per Thousand1
---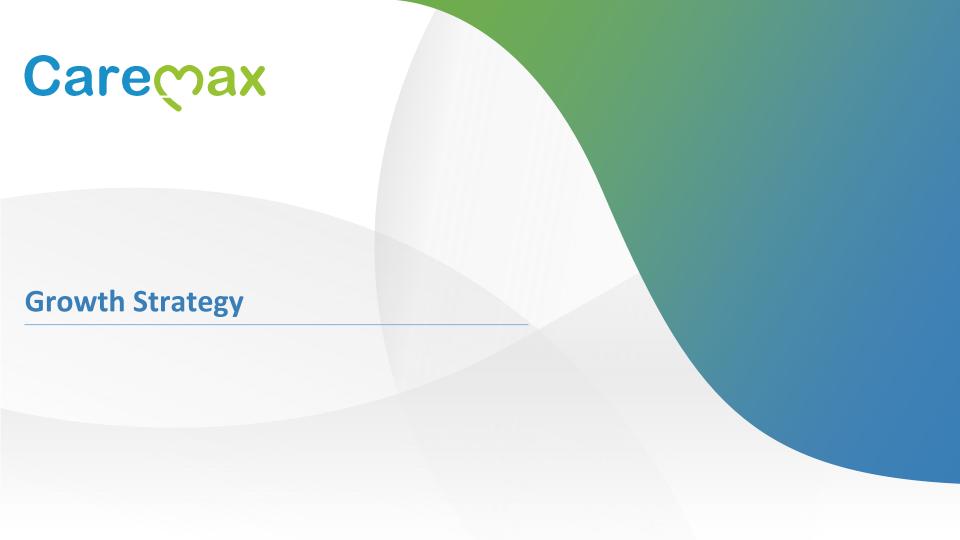 Growth Strategy
---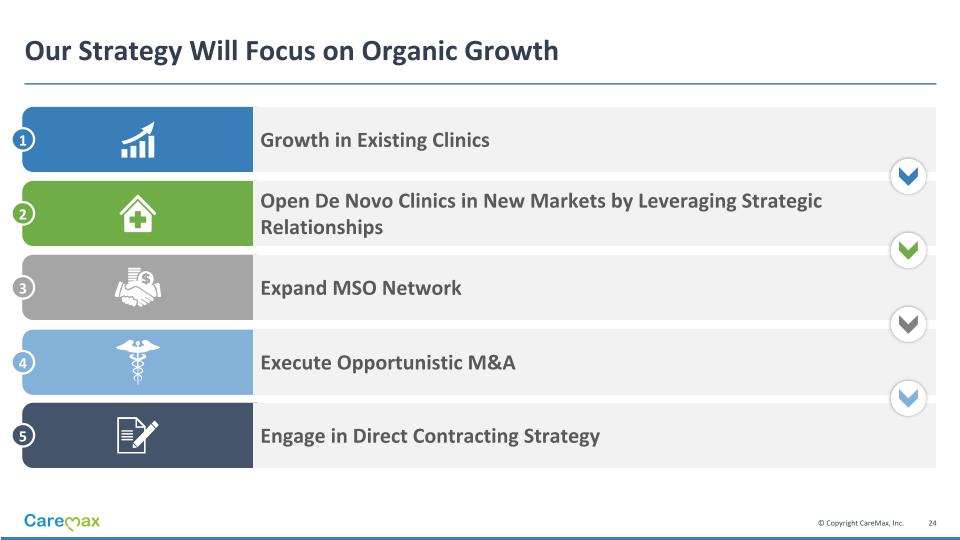 Our Strategy Will Focus on Organic Growth Growth in Existing Clinics Open De Novo Clinics in New Markets by Leveraging Strategic Relationships Expand MSO Network Execute Opportunistic M&A Engage in Direct Contracting Strategy 3 4 5 2 1
---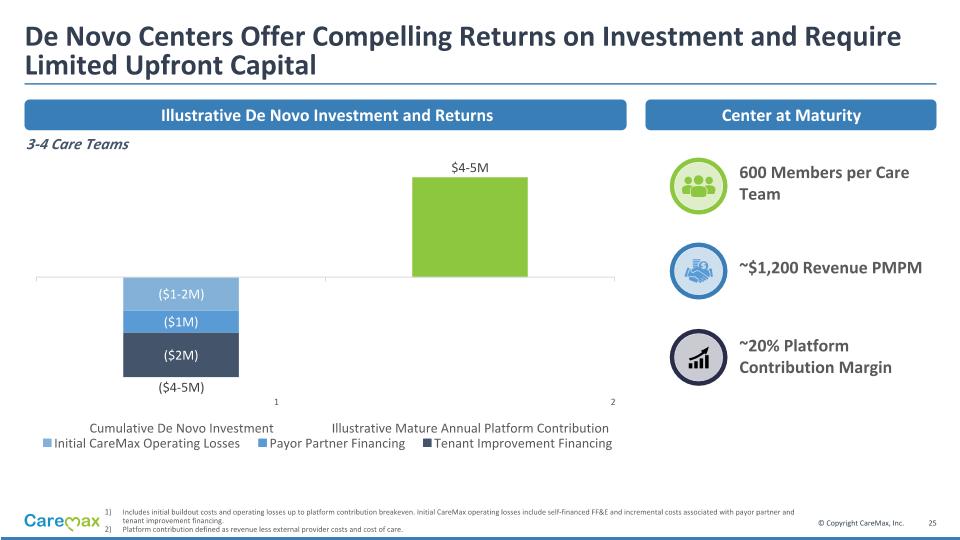 De Novo Centers Offer Compelling Returns on Investment and Require Limited Upfront Capital Includes initial buildout costs and operating losses up to platform contribution breakeven. Initial CareMax operating losses include self-financed FF&E and incremental costs associated with payor partner and tenant improvement financing. Platform contribution defined as revenue less external provider costs and cost of care. 3-4 Care Teams 2 1 600 Members per Care Team ~$1,200 Revenue PMPM ~20% Platform Contribution Margin Illustrative De Novo Investment and Returns Center at Maturity
---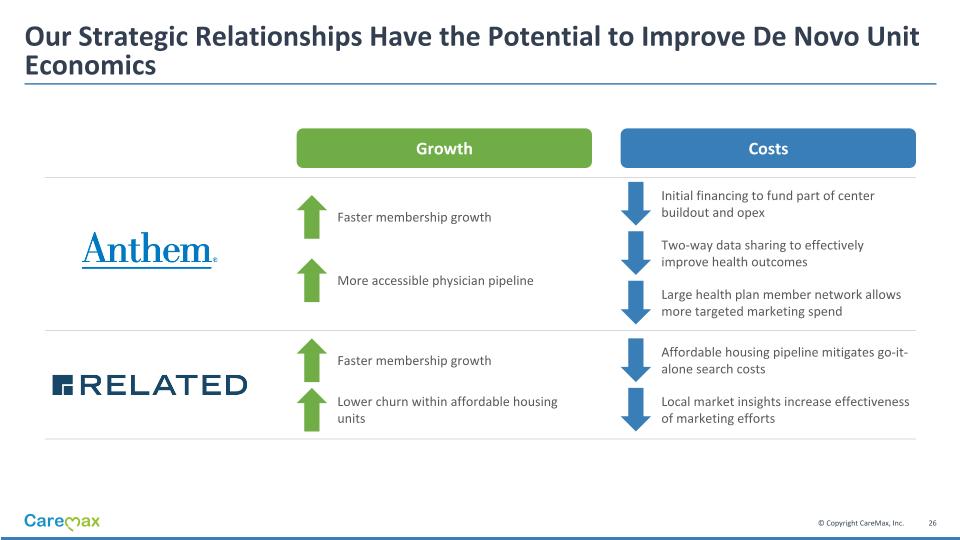 Our Strategic Relationships Have the Potential to Improve De Novo Unit Economics Growth Costs Faster membership growth Initial financing to fund part of center buildout and opex Two-way data sharing to effectively improve health outcomes Faster membership growth Affordable housing pipeline mitigates go-it-alone search costs Local market insights increase effectiveness of marketing efforts Lower churn within affordable housing units Large health plan member network allows more targeted marketing spend More accessible physician pipeline
---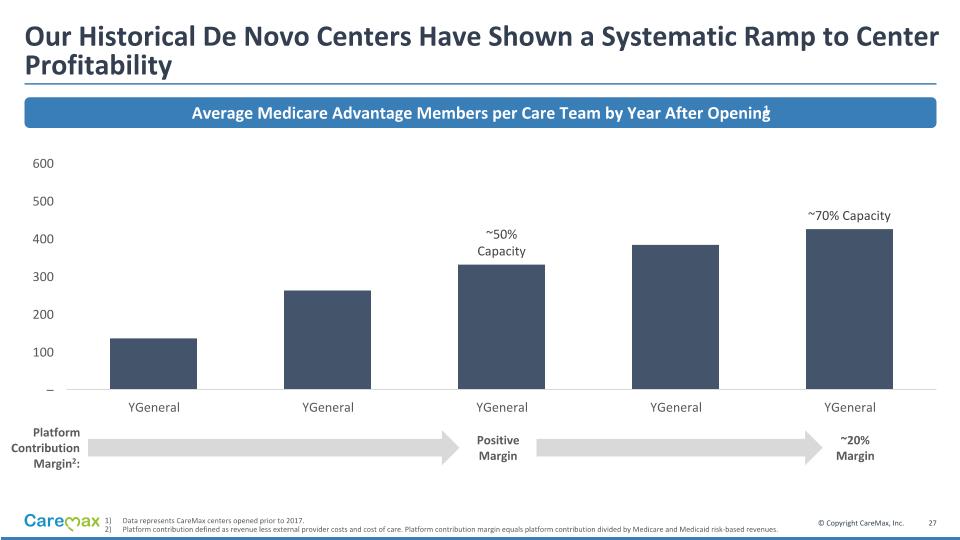 Our Historical De Novo Centers Have Shown a Systematic Ramp to Center Profitability Data represents CareMax centers opened prior to 2017. Platform contribution defined as revenue less external provider costs and cost of care. Platform contribution margin equals platform contribution divided by Medicare and Medicaid risk-based revenues. Platform Contribution Margin2: Positive Margin ~20% Margin Average Medicare Advantage Members per Care Team by Year After Opening1
---
Thank You – Q&A