Exhibit 99.1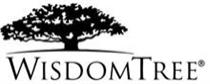 WisdomTree Announces Fourth Quarter 2022 Results – Record quarter-end AUM of $82.0 billion;
Full year inflow rate of 16% across all products
Diluted loss per share of ($0.20); Earnings per share of $0.04, as adjusted
Net flows of $5.3 billion in the quarter (highest flowing quarter since 2015)
Nine consecutive quarters of net inflows
New York, NY – (Business Wire) – February 3, 2023 – WisdomTree, Inc. (NYSE: WT), a global financial innovator, today reported financial results for the fourth quarter of 2022.
($28.3) million net loss ($7.0(1) million net income, as adjusted); see "Non-GAAP Financial Measurements" for additional information.
$35.4 million non-cash loss associated with the revaluation of deferred consideration-gold payments due to a decrease in the discount rate used to compute the present value of the annual payment obligations, as well as higher gold prices.
$82.0 billion of ending AUM, an increase of 15.7% arising from market appreciation and net inflows.
$5.3 billion of net inflows, primarily driven by inflows into our fixed income, U.S. equity and commodity products.
0.36% average advisory fee, a decrease of 2 basis points due to AUM mix shift.
$73.3 million of operating revenues, essentially unchanged from the previous quarter as higher average AUM was offset by a decline in our average advisory fee.
76.9% gross margin(1), a 0.6 point decrease from the previous quarter due to fund rebalances and recent fund launches.
16.0% operating income margin, a 4.5 point decrease compared to our operating margin of 20.5% in the prior quarter primarily due to higher expenses related to the finalization of year-end compensation and seasonal marketing and sales-related initiatives.
$0.03 quarterly dividend declared, payable on March 1, 2023 to stockholders of record as of the close of business on February 15, 2023.
Update from Jonathan Steinberg, WisdomTree CEO
"The momentum we built from last year has set the table for a very exciting 2023 for WisdomTree. We expect our solid fund performance and positioning, combined with growth in our managed models franchise, will drive another year of strong organic growth. Additionally, we remain excited and focused on launching WisdomTree Prime™ and anticipate the platform will be available in app stores in Q2, enabling many users across the U.S. to build holistic portfolios from our suite of digital funds and real-world asset tokens and merge saving, spending and investing activities. Overall, WisdomTree remains on track with exceptional momentum, the right strategy and a tremendous opportunity ahead in ETFs, models, advisors solutions, digital assets and blockchain-enabled finance."
1